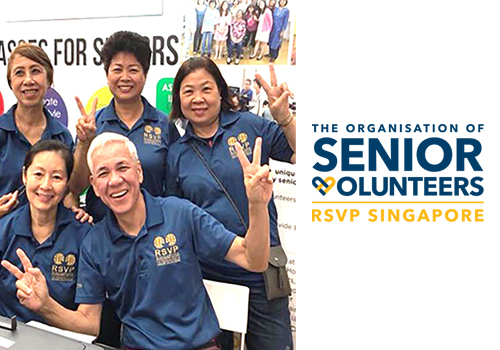 Be an Effective Volunteer
Empowering Seniors to Share and Serve
About this course
"Be An Effective Volunteer" is a course conducted by RSVP Singapore. This course provides an orientation for new volunteers to kickstart their volunteering journey. It offers a general understanding of the importance, purpose and benefits of volunteering in our community. It aims to equip and enrich volunteers with skillsets, attitudes and expertise to start them off a fulfilling volunteering experience. This course is designed to prepare learners to harness their passion to effectively volunteer in the wide volunteering opportunities available today. RSVP Singapore was invited by Council of Third Age (C3A) to offer this course as an e-learning training module and is suitable for members of the public who are keen to explore volunteering in Singapore.
Singaporeans and Permanent Residents aged 50 and above may apply for a coupon code to be eligible for National Silver Academy (NSA) subsidised fees (administered by the Council for Third Age, C3A). To obtain the coupon code, please email the course provider at vlc@rsvp.org.sg to verify your eligibility. Upon successful verification, you will be issued a coupon code.
To enrol for this course at a subsidised fee, please ensure that your coupon code is successfully applied and the total payment amount reflected is after discount when you are making payment. Once payment has been made, we seek your understanding that no refunds will be allowed.
By applying for the coupon code, I confirm that I'm a Singaporean/Permanent Resident aged 50 and above and I give RSVP/C3A consent to contact me to collect and use my personal data (e.g. name, NRIC, date of birth, contact details) for the purposes of subsidy verification and application, and in accordance with the RSVP/C3A's Personal Data Policy. RSVP/C3A's Personal Data Policy is contained in the Personal Data Policy Statement which can be found on the RSVP/C3A Website. By applying for the coupon code, I am deemed to have read and understood RSVP/C3A's Personal Data Policy Statement.
For learners who are not eligible for NSA subsidies, please proceed with the course enrolment.
Course Access Period
This online micro-learning course is delivered via the Gnowbe platform. Please note that this is an asynchronous course to be completed at your own pace within two months from the enrolment date. Do also note that the course tile may take up to 48 hours to show up on your dashboard after purchase, and your access will start after it has been made accessible.
What you will learn
On completion of this course, you will be able to:
Explain what volunteering is about, its importance and purpose
Describe the attributes, basic people skills and time management skills expected of a volunteer
Identify available resources and assistance
Explain how RSVP Singapore supports volunteerism in Singapore
You must complete an online quiz with a passing score of 50% in order to be awarded a certificate. You will be given multiple attempts to achieve the passing score.
RSVP Singapore
RSVP Singapore The Organisation of Senior Volunteers is an Institution of Public Character and the National Centre of Excellence for Senior Volunteerism under the patronage of President Halimah Yacob. With 2,500 volunteers, RSVP Singapore serves more than 200,000 beneficiaries yearly including the mentally disadvantaged, at-risk children from low income families and socially isolated seniors.

Find Us
Singapore University of Social Sciences
463 Clementi Road
Singapore 599494
Email: unilearn@suss.edu.sg
© 2021 Singapore University of Social Sciences. All rights reserved.
Registered: 4 June 2016 - 3 June 2022